Six raisons de participer à IWSC
L'IWSC est le concours de vin le plus ancien au monde, avec plus de 50 ans d'expérience en dégustation de vins et spiritueux.
Les vins et spiritueux inscrits à IWSC sont jugés par des panels de professionels, avec une expertise d'achat commercial venant de milieux divers, assurant la plus grande objectivité des résultats.
L'IWSC organise un programme dynamique de dégustations tout au long de l'année, avec des sessions réparties sur l'année afin d'accomoder les différentes régions productrices de vins dans le monde.
Nous allons plus loin que les autres concours en présentant les vainqueurs d'IWSC directement aux professionels de l'industrie et acheteurs clés, à travers des dégustations organisées par nos partenaires, des salons internationaux, et des partenariats avec des distributeurs clés.
Lorsque vous gagnez une médaille avec l'IWSC, nous faisant la promotion de votre marque devant des milliers de followers toute l'année durant, à travers nos réseaux sociaux.
Les vins et spiritueux médaillés d'or et vainqueurs de trophées sont présentés pour dégustation lors de la prestigieuse cérémonie de remise des prix, se déroulant au sein de l'historique Guildhall, à Londres - un événement décrit par les producteurs comme "les Oscars de l'industrie des vins et spiritueux".
We work hard to promote and raise the profile of your winning wines and spirits around the world:
Trophy-winning wines and spirits are announced at the annual IWSC Banquet. Held at the prestigious Guildhall in London, this event brings together 500 of the industry's elite.
Your gold winning products are tasted by over 500 of the UK's leading importers, retailers and critics.
Dedicated social media and email campaigns ensure winners are publicised to our global network of followers all year round.
Winners are featured on our website.
We have a dedicated Chinese media company promoting your winning wines and spirits to the domestic market via social media.
Winners are showcased in the IWSC magazine, a trade publication distributed to over 10,000 people.
We work with trade bodies to promote competition winners at Prowein, Wine Paris, Vinitaly, Wines of Chile, Wines of South Africa etc.
Winners receive a free marketing toolkit to help promote their awards, including medal artwork, certificates and a Winners' Guide.
Official IWSC medal stickers ensure differentiation on a crowded retail shelf.
Results are presented to key buyers with the objective of linking buyers and producers.
A selection of the winning wines and spirits will be showcased in our luxury lifestyle consumer magazine, Club Oenologique.
Medal winners are highlighted on key retailers such as Amazon, Indy Market, Wine Searcher, Ocado, Waitrose.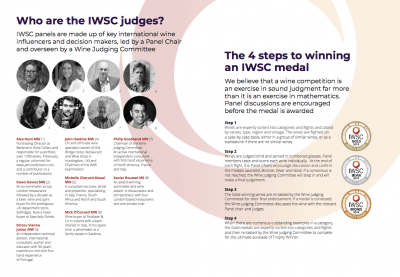 2018 wine entry brochure
Want to know more about the IWSC? Download our 2018 wine entry brochure.
Download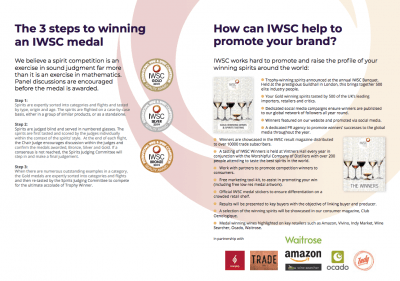 2018 spirits entry brochure
Want to know more about the IWSC? Download our 2018 spirits entry brochure.
Download