Il trasporto può essere organizzato in uno dei seguenti modi:
1. Hellmann Worldwide Logistics
Attraverso i nostri spedizionieri locali (elencati di seguito in base al paese)
2. Distributore Regno Unito
Attraverso un distributore nel Regno Unito
3. Indipendente
È possibile organizzare in modo indipendente, si prega di notare che sarete responsabili di tutti i costi, imposte e tasse
Per semplificare ancora di più le procedure di iscrizione, abbiamo scelto di rinnovare la nostra partnership con Hellmann Beverage Logistics. Al costo di £50 per vino partecipante, i concorrenti possono inviare i propri prodotti direttamente al Concorso dalle sedi selezionate del nostro partner Hellmann Beverage Logistics. Nel prezzo sono incluse tutte le tasse.
Per trovare la sede Hellmann partecipante più vicina a te, utilizza il campo di ricerca qui sopra. Per tutti i dettagli sulla spedizione clicca qui.
Per usufruire del trasporto, dovrai consegnare i prodotti alla sede più vicina, entro e non oltre la scadenza indicata per la spedizione consolidata (groupage). Prima di inviare i tuoi prodotti, dovrai contattare Hellmann Beverage Logistics. Tutti i cartoni dovranno riportare in maniera chiara l'indirizzo riportato qui sotto, oltre al nome della tua azienda.
Per qualsiasi domanda relativa all'offerta di spedizione consolidata, contatta info@iwsc.net
Hai scelto di non usufruire della nostra offerta per il trasporto di vini/liquori?
Ti preghiamo di inviare 4 campioni per ciascun vino e/o liquore partecipante, direttamente o tramite corriere indipendente a:
The International Wine and Spirit Competition Cellars
Building 17, Dunsfold Park,
Stovolds Hill,
Cranleigh,
Surrey, GU6 8TB,
UK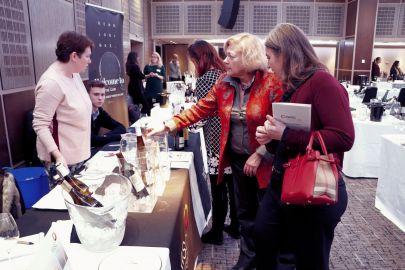 Bottle collection
Save on shipping costs by giving your samples to us in person. We will be collecting bottles at a number of key trade events around the globe, throughout the year. Upcoming events include Vinitaly and ProWein.
Get in touch with our marketing team for more information.