Sei motivi per partecipare all'IWSC
L'IWSC è la competizione enologica più longeva al mondo, con oltre 50 anni di esperienza nel giudicare vini e distillati.
I wini e i distillati iscritti all'IWSC vengono giudicati da una giuria di alto profilo con esperienza nel settore commerciale e provenienti da una vasta gamma di settori, al fine di garantire la massima obiettività dei risultati.
L'IWSC gestisce un programma di giudizio dinamico con sessioni di valutazione distribuite durante tutto il corso dell'anno al fine di venire incontro alle esigenze delle varie regioni vinicole del mondo
E' nostro ulteriore impegno presentare i vincitori di medaglie dell'IWSC direttamente ai professionisti del settore e agli acquirenti chiave, attraverso le degustazioni organizzate dai nostri partner commerciali, le fiere internazionali e le partnership con i principali rivenditori.
Quando vi aggiudicate una medaglia dell'IWSC, ci impegnamo a promuovere il vostro marchio presso migliaia di follower durante tutto l'anno attraverso i nostri vasti canali di social media.
I vini e i distillati vincitori di medaglie d'oro e di trofei vengono presentati per la degustazione al prestigioso IWSC Awards Banquet che si tiene presso lo storico Guidhall di Londra. Un evento descritto dai produttori come "Gli Oscar dell'industria del vino e dei distillati".
We work hard to promote and raise the profile of your winning wines and spirits around the world:
Trophy-winning wines and spirits are announced at the annual IWSC Banquet. Held at the prestigious Guildhall in London, this event brings together 500 of the industry's elite.
Your gold winning products are tasted by over 500 of the UK's leading importers, retailers and critics.
Dedicated social media and email campaigns ensure winners are publicised to our global network of followers all year round.
Winners are featured on our website.
We have a dedicated Chinese media company promoting your winning wines and spirits to the domestic market via social media.
Winners are showcased in the IWSC magazine, a trade publication distributed to over 10,000 people.
We work with trade bodies to promote competition winners at Prowein, Wine Paris, Vinitaly, Wines of Chile, Wines of South Africa etc.
Winners receive a free marketing toolkit to help promote their awards, including medal artwork, certificates and a Winners' Guide.
Official IWSC medal stickers ensure differentiation on a crowded retail shelf.
Results are presented to key buyers with the objective of linking buyers and producers.
A selection of the winning wines and spirits will be showcased in our luxury lifestyle consumer magazine, Club Oenologique.
Medal winners are highlighted on key retailers such as Amazon, Indy Market, Wine Searcher, Ocado, Waitrose.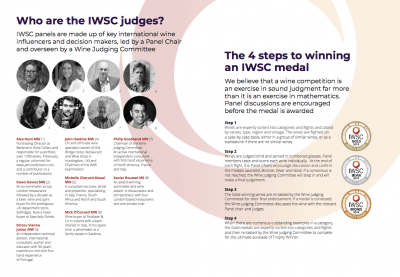 2018 wine entry brochure
Want to know more about the IWSC? Download our 2018 wine entry brochure.
Download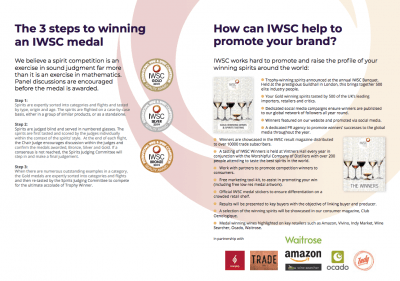 2018 spirits entry brochure
Want to know more about the IWSC? Download our 2018 spirits entry brochure.
Download