Six reasons to enter the IWSC
The IWSC is the longest-running wine competition in the world, with over 50 years' experience judging wines and spirits.
Wines and spirits entered into the IWSC are judged by high-profile panels with commercial buying expertise across a diverse range of backgrounds, ensuring the greatest objectivity of results.
The IWSC runs a dynamic year-round judging programme, with judging sessions spread across the year to accommodate the world's wine regions.
We go the extra mile to present IWSC medal-winners directly to industry professionals and key buyers, through tastings organised by our trade partners, international trade fairs, and partnerships with key retailers.
When you win a medal at the IWSC, we promote your brand to thousands of followers throughout the year via our extensive social media channels.
Gold medal and trophy-winning wines and spirits are presented for tasting at the prestigious IWSC Awards Banquet, held at the historic Guildhall in London – an event described by producers as 'the Oscars of the wine and spirits industry'.
Selo de aprovação garantido
Com 50 anos de experiência, o IWSC é largamente reconhecido como o concurso de vinhos e bebidas espirituosas mais original, prestigiado e respeitado do mundo

Os consumidores mundiais confiam e procuram ativamente a medalha do IWSC quando se vão decidir pela compra

O Concurso é o único dos concursos de vinhos e bebidas espirituosas que utiliza um processo de avaliação em duas fases, para se assegurar que o IWSC produz os resultados mais credíveis do setor.

A nossa equipa de operações premiada trata cada produto recebido nas nossas adegas com todo o cuidado e atenção necessária à preparação das diferentes rondas de avaliação para os nossos juízes.
Melhore a visibilidade da sua marca
Os vencedores do Concurso recebem um conjunto de ferramentas de marketing grátis para os ajudar nas RP e marketing dos medalhados

Campanhas exclusivas nas redes sociais asseguram que os vencedores sejam promovidos numa ronda anual através de campanhas atrativas para o consumidor, incluindo #winewednesday e #thirstythursday

Agentes internacionais e parceiros dos meios de comunicação trabalham nos mercados globais, promovendo a visibilidade do concurso

O Concurso acolhe e atende múltiplos eventos ao longo do ano com o objetivo de promover os vencedores da competição
Aumento as suas vendas
Os vencedores aparecem publicados num suplemento produzido pelo the drinks business distribuído para mais de 10 000 assinantes, que é uma montra dos produtos vencedores para os compradores de todo o mundo

Os vinhos e bebidas espirituosas medalhados no Reino Unido são destacados na Amazon.co.uk e no Web site de comparação de preços Winesdirect.co.uk

Os rótulos com a medalha oficial do IWSC garantem uma diferenciação na prateleira recheada do supermercado/loja
RP mundial
Uma agência exclusiva de RP é contratada para promover os sucessos dos vencedores nos meios de comunicação globais.
Ajuda para a Inscrição
Se precisar de ajuda para a sua inscrição, envie um e-mail à nossa equipa premiada de operações para o email: info@iwscgroup.com ou por telefone para o número: +44(0)1483 548 963.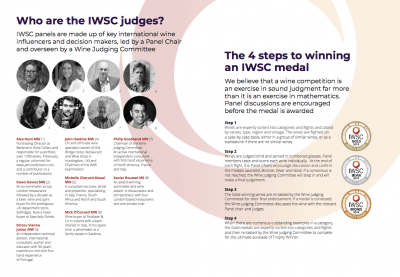 Wine entry pack
Want to know more about the IWSC? Download our wine entry pack
Download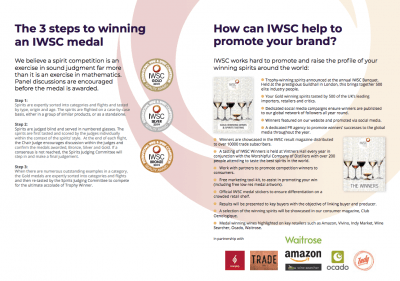 Spirits entry pack
Want to know more about the IWSC? Download our spirits entry pack
Download