Six reasons to enter the IWSC
The IWSC is the longest-running wine competition in the world, with over 50 years' experience judging wines and spirits.
Wines and spirits entered into the IWSC are judged by high-profile panels with commercial buying expertise across a diverse range of backgrounds, ensuring the greatest objectivity of results.
The IWSC runs a dynamic year-round judging programme, with judging sessions spread across the year to accommodate the world's wine regions.
We go the extra mile to present IWSC medal-winners directly to industry professionals and key buyers, through tastings organised by our trade partners, international trade fairs, and partnerships with key retailers.
When you win a medal at the IWSC, we promote your brand to thousands of followers throughout the year via our extensive social media channels.
Gold medal and trophy-winning wines and spirits are presented for tasting at the prestigious IWSC Awards Banquet, held at the historic Guildhall in London – an event described by producers as 'the Oscars of the wine and spirits industry'.
值得信赖的批准印章
凭借50年的行业经验,IWSC被公认为全球最具声望的葡萄酒及烈酒大赛。
全球消费者对IWSC奖项普遍认可,主动将其作为购买决策的重要参考。
不同于其它葡萄酒及烈酒大赛,IWSC独树一帜地将评审过程分为两个阶段,以确保IWSC能提供最可靠的行业评选结果。
我们的获奖经营团队尽职地将收到的每一瓶参赛酒小心存放入酒窖中,认真看管,以备评委分组品鉴。
品牌提升
大赛获奖者将收到一份免费营销工具包,助其推广获奖产品。
我们的专业社交媒体活动及消费者活动能确保获奖产品得到全年推广,其中包括:#winewednesday(周三品红酒)和#thirstythursday(口渴的周四)。
国际代理和媒体伙伴努力增强大赛及获奖者的全球市场影响力。
为推广大赛获奖产品,主办方每年组织多场活动。
增加产品销量
获奖名单将印制在年度饮料行业增刊中;该增刊拥有10,000多名国际用户,旨在向全球买家展示获奖产品。
获奖葡萄酒及烈酒能得到以下网站的重点推荐:Amazon.co.uk和比价网站winesdirect.co.uk。
官方IWSC奖章标签能让您的产品在拥挤的货架上脱颖而出。
全球公关
报名协助
如果您需要获得报名协助,请发邮件至我们的获奖运营团队:info@iwscgroup.com;或致电+44(0)1483 548 963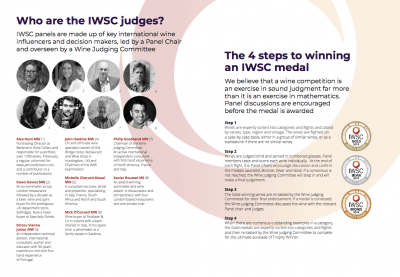 Wine entry pack
Want to know more about the IWSC? Download our wine entry pack
Download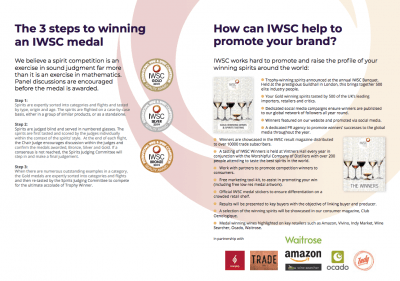 Spirits entry pack
Want to know more about the IWSC? Download our spirits entry pack
Download