Julian Brind Trophy nominees compete in Battle of the Bottles at The Ivy Club
IWSC News
Nominees of the Julian Brind Memorial Trophy for Outstanding Achievement in the Wine Industry went head to head last night in a 'Battle of the Bottles' tasting event.
Presenter Tom Surgey and educator Curly Haslam-Coates (above left and centre respectively) – meeting in person for the first time – appeared together at The Ivy Club in London's Covent Garden alongside Women in Wine LDN co-founder Sula Richardson (above right). The three are nominated for one of the IWSC's most prestigious awards, the Julian Brind Memorial Trophy, which is designed to find the next big star in the wine industry.
The event was originally created by Surgey, head waiter at The Ivy Club until 2014. It runs a couple of times a year in Brighton and London, and has a residency at The Club, where it provides members with an opportunity to discover more about the wines that make up The Club's list.
Over three rounds, Surgey and Haslam-Coates each selected their favourite bottles from The Ivy's list, presenting them to an audience of wine lovers to vote for their favourite.
Haslam-Coates came out on top, with her selections of Protos Verdejo, Rueda 2018 and Gregory Perez Mencia, Bierzo 2018 for the first and third rounds triumphing over Surgey's choices of Terras Gauda Albariño 2018 and JM Lafont Morgon 'Les Charmes' 2016. Surgey's second round selection of Johanneshof Reinisch Zweigelt, Austria 2017 proved more popular than Haslam-Coates' Fontanafredda Barbera d'Alba 2017, meanwhile.
A bonus fourth round saw each unveil a sparkling wine from their respective regions –Ridgeview Bloomsbury NV from Surgey, and Bellebonne Vintage Cuvee 2015 from Haslam-Coates, the bottles of which she had brought in her suitcase from Tasmania especially for the event.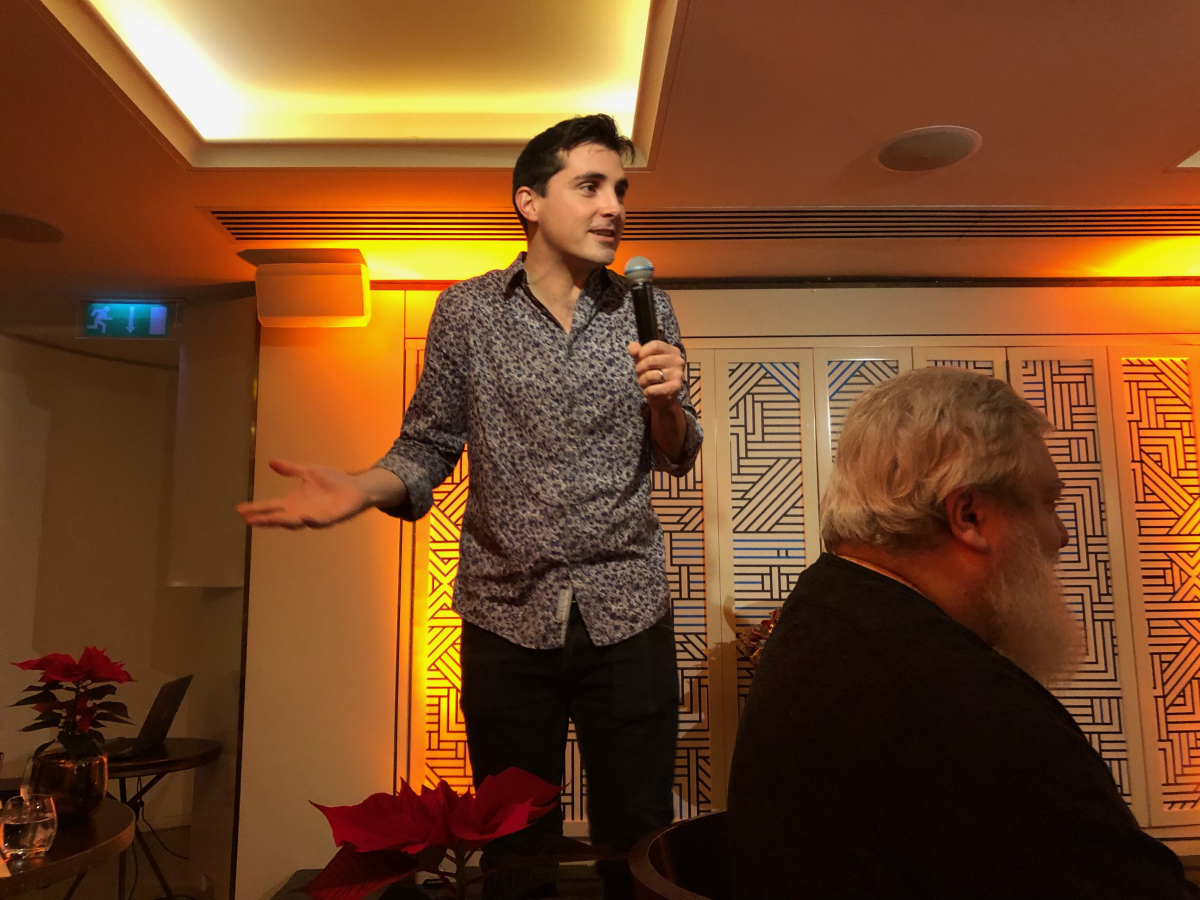 "It's a really great platform that the IWSC has given us. It's squared various circles in the wine trade just from us being nominated – we've now connected and done an event together. I'm so happy just to be a part of it" said Surgey, who is currently sales and business development director at Ridgeview.
"I think it's insightful for wine in 2019. Wine is global, and the young, up-and-coming people recognise that we've got to work together to make it accessible. What the three of us did – across continents – was to say that there's something to be gained here. It's collaborative. There will be a winner, but ultimately it's a collaborative thing," he said.
"We've all been messaging each other since we were announced as the three finalists," added Haslam-Coates, founder of Vintage Tasmania, a wine education business which is the first and only provider of WSET courses in Tasmania.
"We're always going to be connected and sharing ideas, and it's been amazing to get to meet both of them tonight. It's fantastic that Tom was able to make this happen."
The third nominee, Richardson, who was also in attendance, works at drinks communications agency Phipps Relations, where she manages accounts for Wines from Rioja, Wines of Germany and Cognac. She also co-founded Women in Wine LDN, a professional networking group that actively champions women in the wine industry.
The Julian Brind Memorial Trophy for Outstanding Achievement in the Wine Industry is awarded to an individual who demonstrates courage of their convictions, dedication to the industry, and a passion for wine. This year's winner will be announced at the IWSC Awards Banquet this Thursday 28 November.