Presidents
The role of President of the IWSC has a long history and the competition has been honoured by an unrivalled list of truly iconic figures from the wine and spirits industries who have taken up this role including Baroness Philippine de Rothschild, Wolf Blass, Sir Ian Good, Robert Mondavi and Warren Winiarski. The President acts as the embodiment of the IWSC's objective to recognise and promote the production of quality wines and spirits throughout the world and the person appointed as President of the IWSC is chosen for their stature and reputation which enable them to achieve this objective.
IWSC 2017 President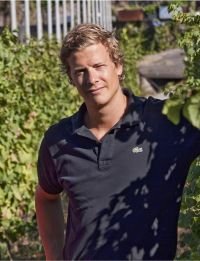 Chris Blandy
"Chris Blandy was born on the island of Madeira in 1979. As was the case with many English families living abroad, Chris studied in England from prep school up to university. After achieving a Bachelor of Arts degree in Spanish, Portuguese and Latin American Studies at the University of Newcastle upon Tyne, he joined the marketing department at the Symington Family Estate in Porto for a 2 year period, focusing on the Madeira wine business.
Chris then moved to Washington DC and worked at the Willard Inter Continental Hotel, ending his 2 year spell there as the hotel's diplomatic liaison manager, dealing with the visiting foreign dignitaries.
View President's full profile
Past IWSC Presidents
| Year | Name | Company | Country |
| --- | --- | --- | --- |
| 2016 | Matteo Lunelli | Ferrari Winery and of the Lunelli Group | Italy |
| 2015 | Neil McGuigan | Australian Vintage | Australia |
| 2014 | Dr Laura Catena | Bodegas Catena Zapata | Argentina |
| 2013 | G. Garvin Brown IV | Brown-Foreman Corporation | USA |
| 2012 | Mauricio Gonzalez Gordon | Gonzalez Byass S.A. | Spain |
| 2011 | Prince Robert of Luxembourg | Domaine Clarence Dillon | France |
| 2010 | Prinz Michael Zu Salm-Salm | Prinz Salm Dalberg'sches Weingut | Germany |
| 2009 | Sir Ian Good | The Edrington Group | United Kingdom |
| 2008 | Rafael Guilisasti | Viñedos Emiliana SA | Chile |
| 2007 | Gina Gallo | E&J Gallo Family Estate | USA |
| 2006 | Anthony Von Mandl | Mission Hill Family Estate Winery | Canada |
| 2005 | Wolf Blass | Wolf Blass Wines | Australia |
| 2004 | Paul Symington | The Symington Family Port Shippers | Portugal |
| 2003 | Claes Dahlbäck | Vin & Spirit | Sweden |
| 2002 | Dominique Hériard Dubreuil | CEO, Rémy-Cointreau | France |
| 2001 | Warren Winiarski | Stags Leap Wine Cellars | USA |
| 2000 | Baroness Philippine de Rothschild | Baron Philippe de Rothschild Ltd | France |
| 1999 | Miguel Torres | Miguel Torres | Spain |
| 1998 | Sir Anthony Greener | Diageo | United Kingdom |
| 1997 | Jean Hugel | Hugel et Fils | France |
| 1996 | Dr Anton Rupert  | Rembrandt Group | South Africa |
| 1995 | Marchese Leonardo de' Frescobaldi | Marchesi dé Frescobaldi | Italy |
| 1994 | Michael Jackaman | Allied Domecq | United Kingdom |
| 1993 | May de Lencquesaing | Château Pichon Longueville Comtesse de Lalande | France |
| 1992 | Chris Hancock Hon MW | Rosemount Estates | Australia |
| 1991 | Peter MF Sichel | H. Sichel Söhne | USA |
| 1990 | Robert Drouhin | Maison Joseph Drouhin | France |
| 1989 | José Ignacio Domecq  | Domecq | Spain |
| 1988 | Marchese Piero Antinori | Marchese Antinori | Italy |
| 1987 | Kenneth Graham FIAE | Whyte & Mackay | United Kingdom |