Tue 28 Nov 2017
IWSC sponsors thanked at celebratory lunch
IWSC sponsors and judges celebrated the world's premier wine and spirit competition at luxury Mayfair dining club Mosimann's earlier this month.
Sponsors, which include the likes of Amazon, Purity Vodka and Frescobaldi, play a key role in the competition's overwhelming success, and the exclusive lunch provides an opportunity for the IWSC to thank them for their invaluable support.
The celebration began with a sparkling wine reception, where guests were served the silver medal-winning Ferrari Perlé 2010, provided by former IWSC president Matteo Lunelli. For lunch, guests were treated to Anton Mosimann's signature dish of roast guinea fowl, accompanied by two award-winning wines: Stellenrust Chenin Blanc 2016 and Takapoto Estate Central Orago Pinot Noir 2012, winners of the Chenin Blanc Trophy and New Zealand Wine Producer of the Year respectively, while outgoing president Chris Blandy provided the trophy-winning 1980 Blandy's Vintage Madeira Terrantez for the dessert.
Many guests were still buzzing from their wins at the Awards Banquet the night before, including master blender Thomas Kuuttanen of Purity Vodka, who was awarded both the Vodka Trophy and Vodka Producer of the Year. "I'm very honoured to have been awarded by the IWSC. As the oldest and biggest spirits competition in the world, it means a lot to me. It's a fantastic feeling", he said.
Key sponsor Leonardo Frescobaldi and Lifetime Achievement Award winner Richard Paterson also attended the event, along with chair of the judging panel Philip Goodband MW and IWSC brand ambassadors Jing Song and Michele Shah.
David Scace, global vice president of Hellmann Beverage Logistics, which sponsored the Wine Producer of the Year trophies for Australia, Germany, and New Zealand, said that Hellmann's partnership with the IWSC was hugely beneficial. "The sponsorship has formed relationships for Hellmann with many brand owners in the wine and spirit industry, something that would not be possible outside of this unique partnership", he said.
Richard Stoppard, IWSC chief operating officer, added, "It was a real pleasure to be able to celebrate another successful year with our IWSC sponsors at Mosimann's. Without their help and support we could not have presented such a memorable banquet. We truly value their continued support."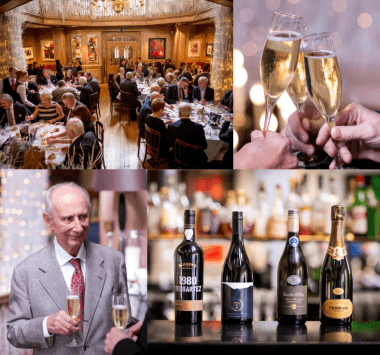 Enter Now
Buy Stickers & Artwork

Buy Award Winning Wines & Spirits
Search Winners